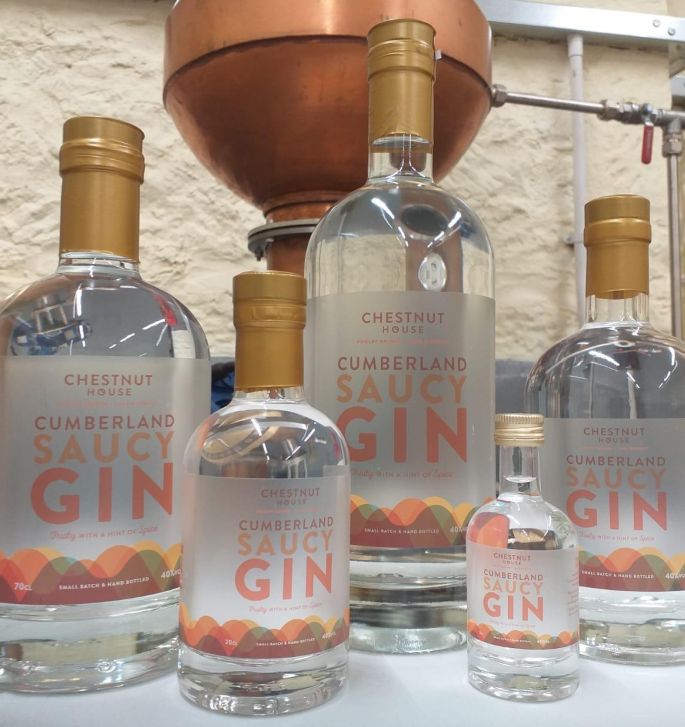 Chestnut House, Pooley Bridge

Cumberland Saucy Gin
Andrew Kaye owner of Chestnut House approached us at Solway Spirits to make a unique bespoke GIN exclusively for his shop in the beautifully picturesque village of Pooley Bridge.
Andrew wanted something that really represented the Cumbrian area. We got to work making numerous different infusions and distillations, but eventually hit on the wonderfully aromatic Cumberland Saucy Gin.
Inspired by the traditional recipe for Cumberland Sauce. This Gin is a fruity, spicy juniper forward gin. Redcurrants and orange peel dominate, whilst black peppercorns, mustard seeds and coriander give an underlying warm finish.
This Gin stands with a vast array of other spirits available from the wonderful drink and food emporium at Chestnut house, it is so popular we produce it in 70, 50, 20 and 5cl sizes bottles, only available at Chestnut House on on their website: wwwchestnuthouseonline.co.uk
Now avaialable in 1 Litre bottles
The Tipsy Filly, "Giddy Up" and "Saddle Up"
Helen Askew is the original Tipsy Filly !! anyone who has had the good fortune to attend one of her demos or events will understand.
Helen along with her dad have converted her old horsebox into a beautifully floral, mobile gin & prosecco bar.
Helen is a born entertainer, with a wicked sense of humor, and a real flair for mixology..you dont like GIN…. you will when Helen's listened to your tastes and mixed you one of her creations I
The Tipsy Filly was determined and excited about having her own GIN, something in keeping with her business, something to strengthen her brand.
After talking to Andrew at Solway Spirits they came up with two GINS that just box perfectly together
Saddle Up and Giddy up ..very appropriate
Saddle up : is the fruity number made with Cumbrian rhubarb, fresh limes and lemons,fennel seeds and lots of plump juniper berries, Helen likes to serve it with a lime wedge garnish with greek basil
Giddy Up: Is the floral offering made with local Cumbrian rose petal a hint of lemon and lime and those so important juniper berries, great served with a slice of orange and a sprig of rosemary Helen designed her own labels and we think they are fabulous !!
Tirril Brewery, Tirril, Penrith
Chris from Tirril brewery is a true forager, he has worked with us at Solway Spirits all season bringing freshly grown and foraged products, for us to make into his unique Gins, and when they are sold out, that is it until next years harvest !!
Fresh Elderflower and local Honey, Cumbrian Sloes, Raspberries from his own garden, Rhubarb and Rosehip, his latest edition his home made Bonfire Toffee infused with our craft gin
We are busy infusing his autumn harvest of brambles, the smell of which is filling the distillery with a promise of a summer hedgrow infusion. .
What will you bring us next Chris ??
Tel: 01768 361846
Email: hello@tirrilbrewery.co.uk
Bespoke Personalised Bottles
At Solway Spirits we can create a unique label for that special event, for example,  a Birthday, Anniversary,  or Wedding Favour
This is a unique gift for you to personalise, to suit the needs of the occasion or event,  a 70cle bottle costs from £35 depending on contents
If you have any questions, please don't hesitate to get in touch through 
Tel: 01461 758 388 or
Email info@solwayspirits.co.uk
Check out our samples by clicking on the link